ABOUT
A classic and exclusive boutique Guest house renovated from a Japanese traditional house.
Experience a luxurious trip to the past in the ancient city of Kamakura.
Kamakura is known as the"home of the Samurai", one of the most famous tourist resorts near Tokyo with many historical sites.
"Cocon" stands in a quiet neighborhood, surrounded by many old temples and Buddha, it is the best location to enjoy Kamakura.
The house was originally built over 160 years ago, and has been completely transformed into a beautiful boutique Guest house retaining its traditional images from the past.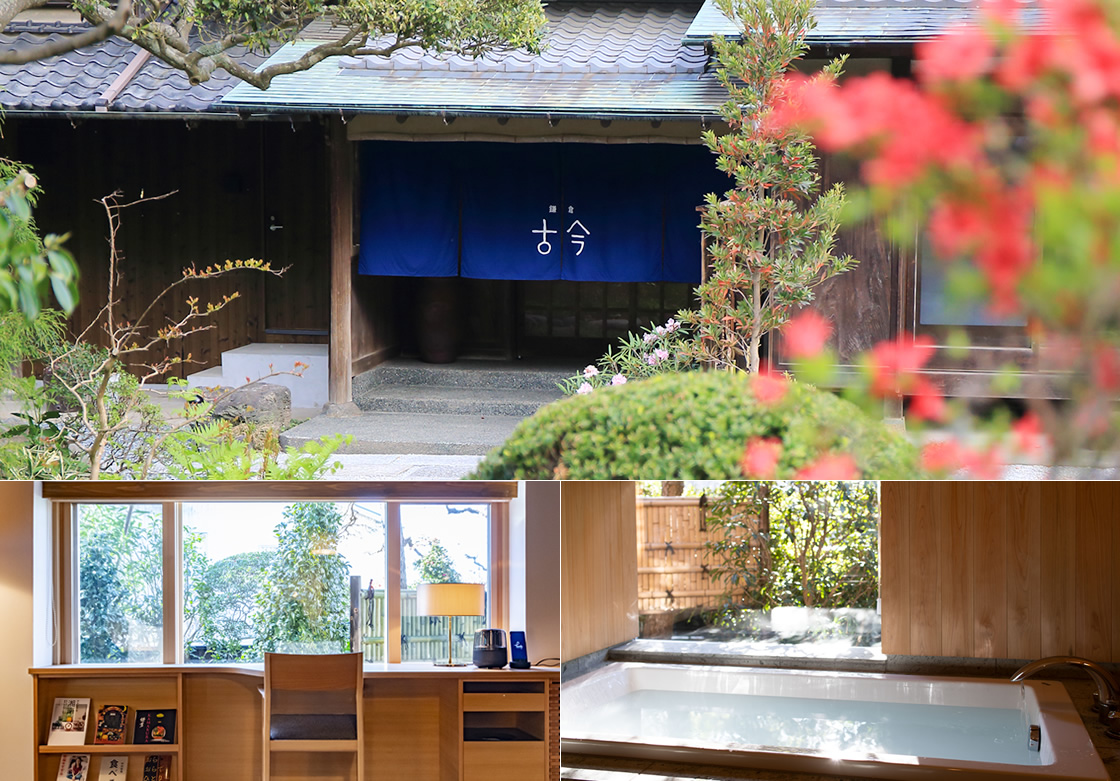 We offer you an exclusive stay in the spacious suite room with a living room, Japanese tatami room, bedroom and bathroom.
Please enjoy the cuisine from our Italian restaurant, and warm welcoming concierge services to make your stay unforgettable.
We are happy to become your home away from home, with our Omotenashi (Japanese hospitality) spirit.
STAY

A spacious suite room offers you
a complete privacy

We welcome only two parties a night for your quiet and relaxing stay.
Suite room includes a living room with sofa and dining,
tatami room to feel traditional Japanese style,
and a luxurious bedroom & bathroom to make your stay pleasant.
Experience the silky touch
of our micro bubble bath

Micro bubbles will deeply cleanse your skin, remove toxins,
and moisturize and smooth your whole body.
The micro bubble bath is available 24 hours daily during your stay.
Just a touch of a button will take you to the journey of
revitalization and relaxation.
Music, aromatic scents, and the finest bedding made in Japan, complete your luxurious stay.

You can fall into a comfortable sleep on the finest bedding made in Japan,
Our bedding is made by "Airwave", the leading company in the bedding industry.
Music and aromatic scents of your choice make your sleep more exceptional.
A good rest will take away the stress of traveling.
Room Details

Room size
Maisonette style
Cocon Maisonette Suite/Room 101:88m

2


Kura Maisonette Suite/Room 102:82m

2

Capacity
Up to 4 people (2 beds and 2 Japanese style "futons")
Room layout
Living, twin bedroom, Japanese "tatami", Kitchenette, 24 hours available bathtub with micro bubbles, two toilets(lavatory)
Room amenities and services
Free Wi-Fi, Smart Speaker, "Airweave" brand beddings, original "Yukata" (Japanese traditional cloth), Nightwear, safe-deposit box, hair dryer, botanical bath amenities, tooth brush,razor etc, free drinks in the mini fridge (6 kinds of beers and beverages),espresso machine, 3 kinds of health tea.
Accommodation charges
36,300 yen per person for 4 guests usage
41,800 yen per person for 3 guests usage
52,800 yen per person for 2 guests usage
※Include breakfast.
※tax included
※Please ask for pricing with dinner included

RESTAURANT

Our counter seats create an intimate and friendly atmosphere

Your relaxed conversation and ability to observe the chef prepare your food makes for a unique gastronomic event.
You can privately chat with your partner or enjoy conversation with our friendly chef across the counter.
Feel free to make requests or ask about ingredients or recommended specialties.
We serve the best organic
and locally grown food

Every dish we serve brings out the full flavor of the ingredients
from the local Kamakura farms and seafood from the Sagami bay.
Seasonings and spices are used sparingly to improve your health.
Please enjoy the fresh and flavorful organic food from the kitchen.
Restaurant Details
Set menu for Lunch

Number of dishes
5 to 6 dishes
Price
9,350 yen , 11,000 yen , 14,300 yen


*tax included.

Opening hours
12:00~14:00

(Last order)

Set menu for Dinner

Number of dishes
7 to 8 dishes
Price
9,350 yen , 11,000 yen , 14,300 yen


*tax included.

Opening hours
18:00~20:00

(Last order)

・Reservations only. Please make a reservation the day before.
・Closed on Wed&Thu.(Open during holidays)
・10 counter seats and a private room with 2 table up to 6 seats
・Kids menu: One plate meal 3,080yen / Kids set menu 5,500yen
FREQUENTLY ASKED QUESTIONS
I'm not a Stay guest, but may I visit the restaurant?

Yes, lunch and dinner are available to the public. Please make a reservation at least one day in advance.

Can we book the entire Guest house for ourselves?

Yes. The entire Guest house is available for up to 8 adults per night for 500,000yen(includes dinner and breakfast). Check out time is 11:30 am the next morning.

Are children allowed?

Children above the school age are welcome at both the restaurant and accommodation.
There is no age limitation when renting the whole Kamakura Cocon.

Are pets allowed?

We are sorry to say pets are not allowed at our facility.

Is the bath "onsen" (natural hot spring)?

It is not "onsen". However your bathtub in your suite room is fully filled with hot water 24 hours throughout your stay,The micro bubbles, which revitalize and relax your body are also available.

Is transportation to the Guest house available?

Yes, we will pick you up, or take you anywhere within the Kamakura city in our private car. Please make a reservation beforehand by phone or email.

Is Wi-Fi available?

Yes, you may use our free Wi-Fi anywhere in the facility.

Is it a smoking or non smoking facility?

Both our Guest house and restaurant are non smoking facilities. Cigarettes of any kind, including pipes and electronic cigarrettes are forbidden.

Is the facility accessible for wheelchair and physically disabled people?

Sorry to say our facility has steps and stairs because it is originally 160 years old.

Do you have a room service?

Yes. The concierge will accommodate according to your needs for room services.

What is the check in and check out time?

Check in time is 15:00 and check out time is 11:30.

Do you have a cancellation policy?

Yes, there is a cancellation fee. We charge you 30% of the total fee 6-7 days prior to arrival, 50% 2-5 days prior, 80% 1 day prior or on the day of your arrival. You will be charged the full amount if you do not contact us beforehand. Our restaurant has the same policy.

Which credit card can I use?

We accept VISA/JCB/AMEX/MasterCard/DC/DinersClub/NICOS.

Is there a private space outside the suite room to hold a meeting or a conference?

Yes, please contact our staff beforehand to reserve the lounge for your private use.
ACCESS
We are only an hour trip by train from the center part of Tokyo, and also easy access from the Haneda airport.
We welcome your visit to our resort in Kamakura, surrounded by the beach and mountains.
For our Guest house customers, our car will be waiting for you at the Kamakura station West exit on your arrival.
Also, it will drive you anywhere within the city of Kamakura during your stay.
From JR Kamakura station East exit 10 minutes by taxi or 8 minutes by Keikyu Bus to "Daito-no-miya" bus stop and 2 minutes walk
From Tsurugaoka Hachimanguu 7 minutes by taxi or 16 minutes walk
Kamakura Cocon

836, Nikaido, Kamakura-shi, Kanagawa,
248-0002, Japan

tel.

0467-81-4435

Restaurant Cocon

836, Nikaido, Kamakura-shi, Kanagawa,
248-0002, Japan

tel.

0467-81-4435

PM12:00-PM14:00(L.0)
/PM18:00-PM20:00(L.0)
Closed on Wed&Thu.(Open during holidays)
※ Please enter our address (not the phone number) on your car's GPS.
CONTACT
Please fill in this form to contact [Kamakura Cocon] and [Restaurant Cocon] for any requests or questions.
Click the [Confirm] button at the bottom to send the message.